Dealers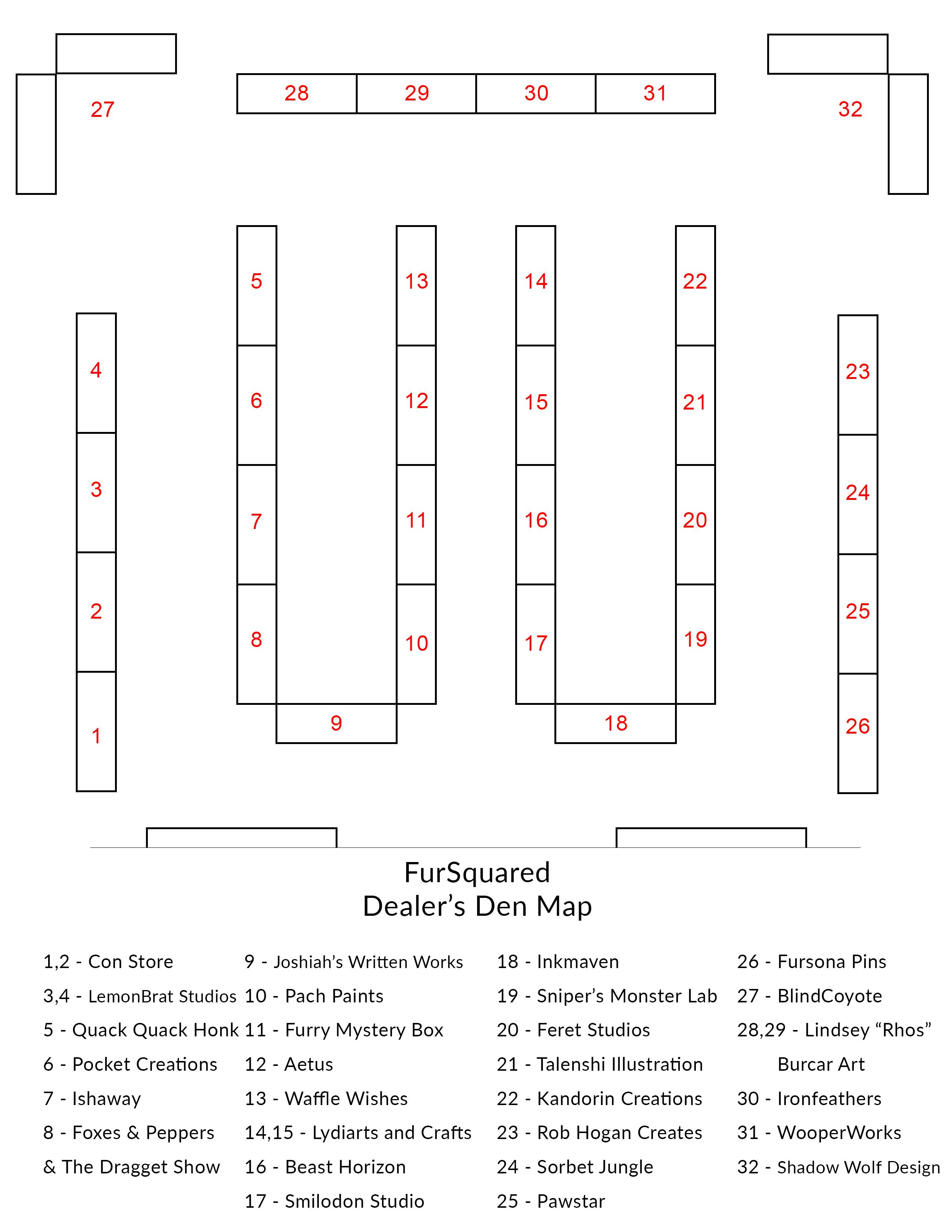 FurSquared is excited to partner with a variety of vendors from across the fandom, connecting their many talents to our enthusiastic attendees. For FurSquared 2020 we are pleased to announce the following confirmed vendors:
Pockett Creations
Talenshi Illustration and Design
Ishaway
Sorbet Jungle LLC
Fursona Pins
Beast Horizon
Ironfeathers
BlindCoyote
Lydiarts and Crafts
Sniper's Monster Lab
FeretStudios
Malmseyy
Skullcat studios
Shadow Wolf Design, LLC
Furry Mystery Box
Furzombie Studios
Pach Paints
Joshiah's Written Works
Pawstar
Waffle Wishes
Lemonbrat Studio
Rob Hogan Creates
Lindsey "Rhos" Burcar Art
Quack Quack HonkDesigns
WooperWorks
Dealers Den
Dealer's Den 2020 Map is forthcoming! Check back soon!
Dealer Applications
The Director of Dealer's Den, their staff, and the FurSquared Board make every effort to curate a well-rounded selection of vendors each year. If you are interested in a Dealer's Den spot, please read all informational resources below, and fill out an application form. Please include as much detail as possible, as this will help us in our process.
Application Process & Pricing
Our application process can be summarized as four steps:
Read all rules [Also make a hyperlink to the Terms of Service page]
Complete the Application Form
Director of Dealers assigns spots or waitlist
Show up & have fun!
To apply for a Dealer's Den table, please fill out the form provided on our Dealer's application page. Here we ask for details regarding you, your business, the types of products you plan to offer, examples of your work, and any relevant experience you have as a vendor at previous conventions (furry related or otherwise). If you have any special requests regarding your tables, please be sure to provide this information in the applicable sections. We will attempt to meet all seating and power, however please be aware that guarantees cannot always be made.
FurSquared uses a juried application process, meaning that applicants are not granted tables on the first-come basis. Instead all applications are evaluated individually with the selection of the final list of vendors being determined by the Director of Dealer's and board leadership. Please be sure to fill out the application in as much detail as possible. We rely on these applications to select a well rounded and fair list of vendors. Any applicants not selected will be placed on a waiting list and will be contacted if a spot opens up.
If your application is approved you will be contacted via email with information regarding payment, hotel room reservation options, and other details. Please note that the cost of registration for the convention is NOT included in the cost of the table. You must purchase a badge separately either through pre-registration online or at the door. If the deadline for payment of your table is missed, you may lose your reservation for a table to another on the waiting list. Please contact us as soon as possible with any issues regarding payment.
All dealers are required to obtain a Wisconsin State Tax ID to sell at the convention. Please follow this link: https://tap.revenue.wi.gov/mta/_/ to apply.
Tables & Pricing
Tables are 8 ft by 3 ft in size, with approximately 3 ft of space behind the table (space may vary slightly depending on table location). The Fursquared Dealer's Den consists of 30 single tables, and 2 corner slots that occupy two tables each. Each table will be provided with a tablecloth and up to two chairs. Pricing is as follows:
Half Table $25.00
One Table $50.00
Two Tables $100.00
Dealers are allowed to share tables, however each dealer will be charged individually for their half of the table. When applying for a shared table, please submit an application for a Half Table and include the name of who you'd like to sit next to in the "Seating Arrangements" section of the application. We judge all dealer's individually and as such it's possible that one dealer will be approved while the other is not. In this situation we will check with the invited party to make sure they are still interested in attending before a table purchase is made.
Terms of Service
All dealers and their assistants/proxies are expected to abide by all following rules and terms at all times. FurSquared reserves the right to refuse service or entry to any person or group of persons for any reason, including violation of these rules.
Dealers and Dealer's Assistants must have their convention badge on their person at all times while in and around Dealer's Den. This is to ensure our staff can easily identify who has permission to be within the area at any given time. Additionally this serves as a safety precaution during setup and teardown.
We request that the majority of a dealer's wares be related to or associated with the furry fandom as a whole. There are no restrictions on the sale of legal merchandise, however the type of merchandise offered and its relation to the fandom is taken into consideration during the juried selection process.
ALL adult art must be censored if on public display. This is defined as having female nipples and male/female groins/genitalia covered with an opaque sticker, paper, post it note, etc. This covering may be placed on a plastic sleeve holding the artwork as well. It is up to the dealer to keep adult artwork out of sight of minors and to ensure it's being viewed discreetly by customers.
Products with intellectual property owned by third parties are prohibited. This includes plushies, tees, pillowcases, and other physical merchandise of copyrighted characters such as Pokemon, My Little Pony, and other related media. This also includes audio/visual reproductions and counterfeit goods. Fursquared reserves to right to request the removal of any merchandise we determine to violate this rule.
If any dispute arises between customers, dealers, or any other individuals within the Dealer's Den, please contact a member of staff as soon as possible. Physical violence and verbal assaults will not be tolerated. Any altercations will be handled by con and hotel security accordingly.
Once a table has been purchased, please note that all dealer's dens tables are final sale. This means NO REFUNDS WILL BE GIVEN once the purchase is made. We ask that dealers be absolutely positive they want to move forward before purchasing their table. If an emergency should arise, please contact us as soon as possible. If we are notified, tables may be held until 11am on Saturday morning, after which the table will be offered to another party.
If you have any questions or would like to speak with dealer's staff regarding any potential issues, please reach out to info@fursquared.com. We will be sure to contact you as soon as possible. Please be sure to include the term "Dealer's" in the title of your email so we can be sure it's routed to the proper channels.